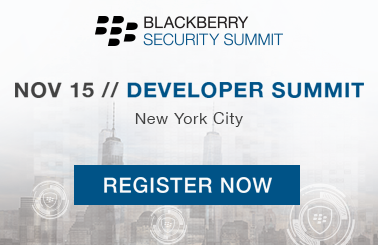 BBM Enterprise SDK is now BlackBerry Spark Communications Platform. Learn more, and download it for free at BlackBerry.com/Spark
Each year, cyberattacks grow more sophisticated and more pervasive.  As we bring more endpoints online and connect more of our daily lives to the web, the risk posed by cybercrime has never been higher. Security is no longer about protecting our data – it's about protecting our health, safety, and well-being.
Developers have a critical part to play. They need to make sure the security of their applications is ironclad, while also finding new ways to streamline the development process. BlackBerry understands that, which is why we're leading the charge with our Developer Summit next week.
The BlackBerry Developer Summit is a one-day, jam-packed workshop hosted by some of our best and brightest. Attendees will learn how to develop and deploy applications that leverage the full power of the BlackBerry Dynamics SDK. Through instructor-led, hands-on training, they'll learn to build best-in-class enterprise apps, and hear first-hand about the future of BlackBerry's platform.
The Developer Summit will be hosted on November 15 in New York City. Those who also attend the Security Summit on November 14 will join industry professionals and thought leaders to explore the bleeding edge of cybersecurity. Through demos, live hacks, and customer- and partner-led case studies, they'll learn how to drive new business models, enhance workflows, and ultimately prepare themselves for the coming enterprise of things.
If you're interested, register here – it's free. We look forward to seeing you there.