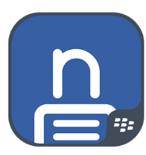 Why settle for unorganized and unsecure notes in static pages trapped in your notebook? With any interconnected team, making your notes more dynamic and alive by storing them with rich content and context is crucial for productivity.
Regardless of how strong your memory is, the time will come for note taking in personal and team environments. It helps keep thoughts, decisions and queries during meetings organized and easy to review. Mobile technology offers various ways to digitally capture facts and ideas, nearly eliminating the need for pen and paper. Which option will help mobile professionals organize important information while improving personal productivity and team information sharing?
Notate for BlackBerry, the "Evernote" for enterprise, a professional and secure way to capture important information, is your answer. Built with business users in mind, it allows users to effectively capture content, intelligently surface it, organize it, and securely share it enabling greater collaboration across the enterprise. Listed on the BlackBerry Marketplace and available for download through Google Play or iTunes, Notate syncs seamlessly across all platforms and devices while being available both online and offline.
Notate uses your existing corporate Exchange server to ensure your data is backed up and doesn't require an additional server to operate nor save your data in the cloud. Your content is securely managed with behind the Exchange syncing and administrative controlled application firewall policies – content is secure when stored, encrypted in-flight and MDM managed on your mobile devices.
Save time gathering your notes and filing them along with related images and other multimedia files. You can use Notate to surface everything you've recorded, in an organized and flexible fashion, with powerful sorting and searching methods. Notate for BlackBerry also has a familiar user interface and its rich text editor supports handwriting input. Rich notes can be created with templates and enhanced with handwriting, annotations, images, audio recordings, web clippings and attachments.

Now with the new Notate Productivity Suite you receive additional features including Notate Meetings, Notate Docs, and Notate Cards, allowing you to mobilize even more of your business workflows and enhancing collaboration.
Notate Productivity Suite features include:
Real time sharing notes and meeting documents with the attendees
Exchange Syncing with Outlook Notes
Scan paper documents and save to SharePoint directly
View and annotate office documents with full PDF annotation
Collaborative team workspaces
Scan business cards to identify contacts and save it in Outlook
Take action items and assign them to meeting attendees
Notate for BlackBerry also helps project or department teams share results, details and reports quickly and efficiently. No longer will you have to squint your way through handwritten text, trying to decipher a colleague's hasty scribbles. Tracking meeting agendas and document sharing has never been easier or more secure than with Notate for BlackBerry integrated with the BlackBerry Dynamics SDK.
Request a free trial of the Notate Productivity Suite for BlackBerry on the BlackBerry Enterprise Marketplace. Contact your BlackBerry account manager to request more information on Notate.
Employees need access to great applications and organizations need to keep their data secure. The BlackBerry Development platform addresses both needs, whether it's leveraging one of the many off the shelf secure enterprise apps, such as Notate, or building your own internal apps. Register today.