When we announced our Developer Hero Program in June, we saw a fantastic outpouring of support from our BlackBerry 10 development community. Over the span of a little over a month, we saw hundreds of new applications submitted. From those, we chose four winners – today, we sit down for an interview with another of the developers behind one of the winning apps.
Software engineer Khoa Nguyen has more than a decade of development experience.  He founded Big Studio with his long-time friend, Anh Do. Together, they've built a strong team, with a ton of great apps – including Monkey Adventure, a fun action game developer exclusively for BlackBerry 10.
Here's what Khoa had to say.
How long have you been developing apps on the BlackBerry 10 platform?
I started on the BlackBerry 10 platform around six years ago, when I founded Big Studio.
What attracted you to the platform?
Mostly the security and productivity of BlackBerry's devices. They have an excellent reputation for reliability, and for keeping both personal and business data safe.
Are there any features that stand out about our OS?
If I had to choose, I'd say the BlackBerry Hub – I find it incredibly impressive. It lets me consolidate everything from emails, text messages, and calls in a single location. That's incredibly easy and convenient, and makes it much easier to organize my day.
Do you currently use a BlackBerry device?
Yes – a BlackBerry Passport. I have to deal with hundreds of emails a day, and the Passport is perfect for that.
What kind of support have you received from BlackBerry?
A ton. BlackBerry's developer programs have been very helpful, and I've received a number of Alpha Dev devices on which I can test and deploy applications.
How did you first get into app development?
I began reading up on documentation back when Cascades was first unveiled. From there, I wrote a number of applications running on BlackBerry 10 simulators, and then Dev Alpha devices a few months later.
Tell us about Monkey Adventure. What inspired you to create it, and what features would you like to highlight?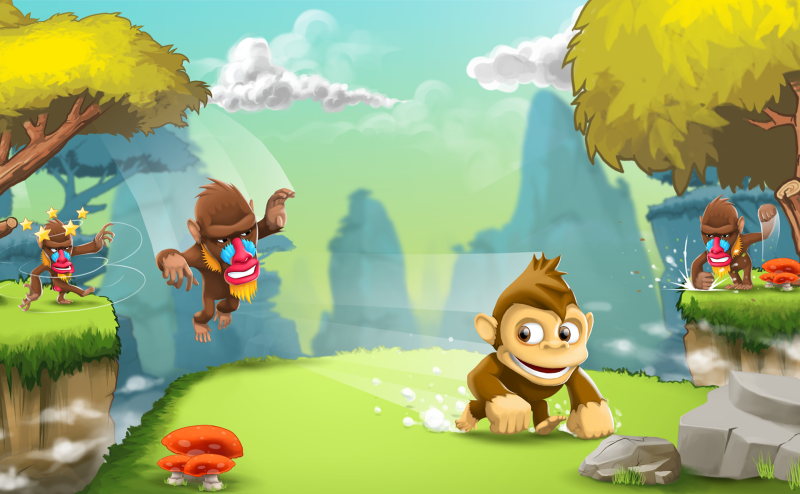 I wanted to build a fun running game with beautiful graphics, funny characters, and challenging gameplay. I also wanted to make sure players never really got bored – that's why the game has over 120 levels. As for how I chose the main character…I just really love monkeys.
What kind of momentum have you seen with monkey Adventure?
The game reached 100,000 downloads after only two months of release, and all the user feedback I've seen so far has been very positive.
What other apps have you developed for BB10? Are there any you'd like to mention, or anything you've got in the works right now?
I've developed more than fifty applications on Blackberry 10, but I particularly love these ones:
I mainly develop apps in fitness, healthcare, and entertainment. Together, the apps above have reached over three million cumulative downloads. I'm really proud of them.
What's the greatest moment you've had with BlackBerry?
While I've had many great moments, I must say my best was receiving my first Alpha Dev device from BlackBerry. It helped me to quickly test and deploy applications in a shorter time than I could manage using a simulator application on desktop.
About Khoa Nguyen, Big Studio Founder:  A husband and father, Khoa was born and raised in Vietnam. He graduated from the Hanoi University of Technology in 2006, and founded Big Studio in 2010, after working several corporate positions. Connect with Khoa on Facebook, LinkedIn or via Email.