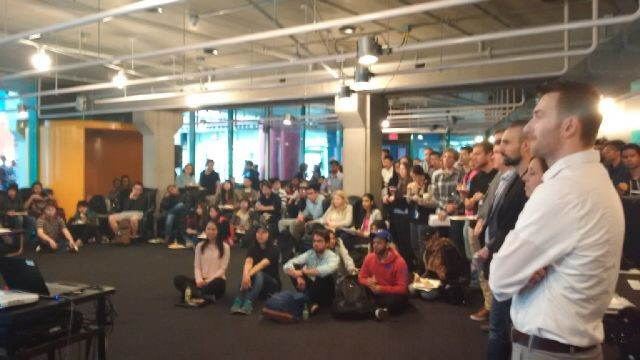 Blog Post Written By: Gagandeep Garg and James Dreher
A few weeks ago we made the brief trip down University Avenue in BlackBerry's hometown of Waterloo, Ontario to host an employment info-session for students at the University of Waterloo. As we do each term at various STEM-focused universities, this provides us with the opportunity to meet with students interested in working at BlackBerry during their cooperative (co-op) education student work terms, in addition to full-time roles after graduation.
As student positions at BlackBerry continue to be some of the most sought after by students at the University of Waterloo, and other STEM-focused universities across the country, these events help us to converse with and mentor students on industry trends and gaining employment in the technology field.

Dr. Bob (Bowerman) greeting students in the DC lounge, just outside of his old office at UW
This term's speakers from BlackBerry included:
Robert Bowerman (SVP, Enterprise Software, Architecture & Development) who returned to his alma matter where he taught for 6-years to speak about how the co-op program is engrained in BlackBerry's corporate culture
Michael Clewley (Director Handheld Software Product Management) who spoke about his own student experience at BlackBerry and the opportunities afforded to him as a result
James Dreher (Senior Enterprise Solutions Manager) who offered insight into applying to student positions from a manager's perspective, and
Matthew Fisher (Senior Manager, Business Applications – Customer Experience and Technology) who shared how students on his own team have an incredible amount of input in their own role, and have the ability to shape their own day-to-day responsibilities with their team.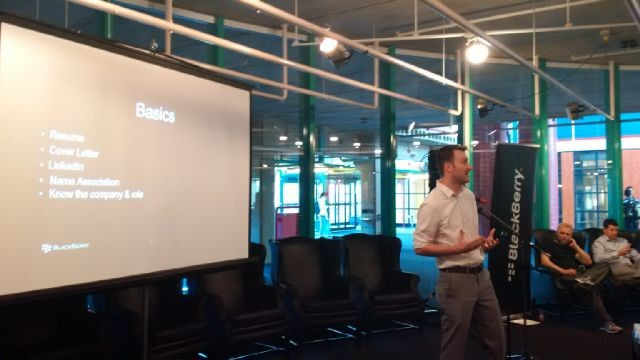 James Dreher shares his insight into what hiring managers at BlackBerry are looking for.
Even within the BlackBerry Developer Blog we encourage our student colleagues to strive to write blog content to share with our BlackBerry Developers. They often provide us with a fresh perspective and are eager for the opportunity to reach such an audience. You can see some of the work of our previous students, Andrew and Sanam, below.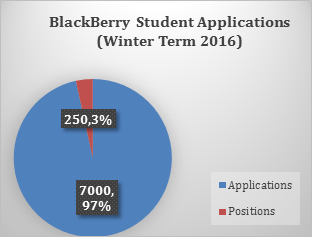 As far as the competitiveness of the applications received, you can see from the pie-chart depicting the approximate student positions at BlackBerry per term compared to the number of applications received. Students from throughout the world (and Canada) have been applying for the positions available which suit them best, according to their prior experience or interest.
At BlackBerry, students also have the opportunity to work from various locations around the globe. Current positions for students are available in the United States, United Kingdom, Germany and Canada.
If you're a student or recent grad interested in applying at BlackBerry, feel free to reference the following links for employment and contact information. We'd love to hear from you!