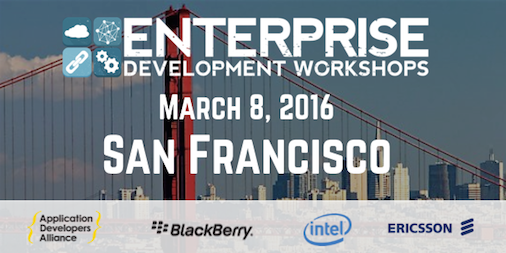 Do you know what the future of your industry looks like?
Join us in San Francisco at the Enterprise Development Workshop for a candid discussion about the role software plays in your business. Every business.
At the workshop you will:
Gain expert insight on the role of developers in their business, and how best to prepare for the digital industrial revolution;
Participate in hands-on demos of essential enterprise tools and programming models;
Have an opportunity to network with industry leading speakers and attendees.
Free tickets!
Register now using promotion code "BlackBerry".
When: Tuesday, March 8 | 12:30PM – 6:30PM
Where: Merchants Exchange Club 465 California Street, San Francisco 94104
Lunch will be served with an open-bar happy hour to conclude the event.
---