The amalgamation of BlackBerry and Good products/services offer customers and our partners the most comprehensive, end-to-end software solution that secures the entire mobile enterprise across all platforms, apps and services, both on-premise and in the cloud.
Apps are a key component of the solution and the combined solution offers the most secure app container solution in the market. These solutions are used on millions of devices around the world to meet the highest security requirements, protecting data independent of device, app, user or location.
We're building on the widest portfolio of secure enterprise productivity applications in the industry, including over 2,000 Independent Software Vendor (ISV) and custom applications with software development kit (SDK) support.
We will support our Partners and Customers developing apps through the transition to the new solution. We're here to help you every step of the way, with some great developer resources available:
Good Technology:
BlackBerry:
We will keep you up-to-date via email, webinars and other resources as we move through the BlackBerry and Good Technology integration process. Stay tuned to new and exciting updates as our Developer resources come together to better serve your application development needs. If there are any questions, please add them to this blog post and we'll provide answers.
For an overview of the complete EMM solution we have the following resource:
Webcast: What BlackBerry + Good means to you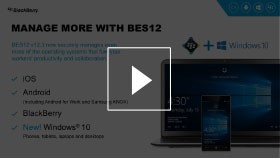 The natural synergies created through the recent acquisition of Good Technology by BlackBerry® will create more value, more innovation and more security across the entire mobility landscape. Tune into our webcast to learn what changes are coming and what they mean to mobile productivity in your enterprise.