This week we would like to highlight a great app that provides users a text to speech (TTS) solution.
Read Out! (TTS, Text to MP3) does just that and so much more. Users are able to share websites and convert them directly to speech for easy and enjoyable listening.
Features Include: browser support, app support, hands free, BBM support, multiple language support and so much more!
To get more information about this great app, we asked the developer, Sven Ziegler of Sven Ziegler IT Solutions, a few questions.
"Your personal read out assistant"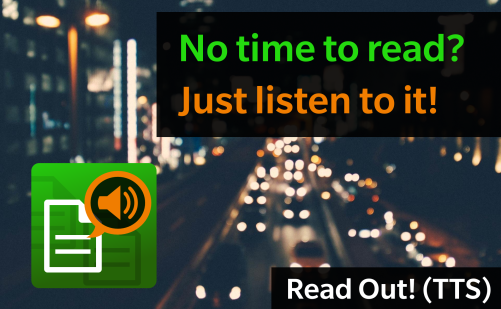 Where did the idea come from?
As I started the development of Read Out! (TTS), it wasn't even meant to be a standalone app. At the beginning it was part of a ReadItNow! beta. In my previous blog post I mentioned what ReadItNow! is, a native BlackBerry 10 client for the popular "read later" service Pocket. Because some users wanted to listen to articles, stored in ReadItNow!, rather than reading them, I've added a 3rd party app more than a year ago. Sadly that app had some limitations with large articles and the developer didn't want to fix the issues, so I had to look at all available text to speech apps in BlackBerry World. I couldn't find a single one that fitted with my needs. For that reason I decided to develop it myself.
After some developing I was really happy with the result and I decided it was far better than everything else I've seen in BlackBerry Word, so I extracted the working code from the ReadItNow! beta and put together a single app with only one purpose: bring TTS support to many other apps! I didn't want to limit its' usage to ReadItNow! as I thought other apps could benefit from this solution as well.
How long did it take to develop the app?
Hard to say. I took me some time to figure everything out and after that, it took more iterations to smooth out everything. The development was split into two parts: the native BlackBerry 10 app and a dedicated server for the data processing. All in all it took me about a month or so.
Who are your ideal customers?
My ideal customers are professionals and consumers who want to listen to text instead of reading it. Sometimes there is no opportunity to read the texts you need or want to, because other things require your attention and/or your hands. Here comes Read Out! (TTS) into play. The app just read out your texts. Quick and reliable. You have your hands free and you can concentrate on other things. No matter if you are driving your car or riding a bike for example.
You're able to share text to Read Out! (TTS) from any other app that allows you to share text, including the BlackBerry HUB! The latest major update also allowed the sharing of URLs to Read Out! (TTS). The app will automatically extract the content and read it aloud.
Every app that supports the sharing of text or URLs, is automatically compatible with "Read Out! (TTS)". Some apps that support one of these are BBM, WhatsApp, ReadItNow, ClipMan, BlackBullet, gNewsReader, Hub Browser, Browsie Browser, BlackStack and many others! You can also type text directly into the app and have it read aloud.
Why should customers buy your app?
I believe this app is truly useful for anybody out there. For anyone who sometimes want to consume textual content without having the required attention to read it. So every person who needs to leave his home to go to the office, college, school, shopping, drive around the kids, etc.
The app is also useful for other developers that want to enable their own users to listen to content as well. As I already pointed out earlier, the app has been designed to be invoked by other apps. For that reason I've put up a blog post to illustrate how to invoke Read Out! (TTS). That post includes a full-working sample app to play around with and can be found here.
If you were looking for an app like this, look no further and get it now.
Together with this app we are recommending a few other applications available on BlackBerry World:
Missed the previous episodes? Check them out to discover more high-quality apps for your BlackBerry