This week we would like to highlight a great app that provides an amazing Twitter experience on BlackBerry 10.
Blaq for BlackBerry 10 is an amazing native Twitter application. The application has been rebuilt from the ground up to offer an even better experience than before. Bonus: this app also happens to be on sale this week!
Features Include: Native UI, interactive gestures, real-time information, BBM integration and so much more!
To get more information about this great app, we asked the developer, Jerome Carty of Kisai Labs, a few questions.
"The only way to use Twitter on BlackBerry 10!"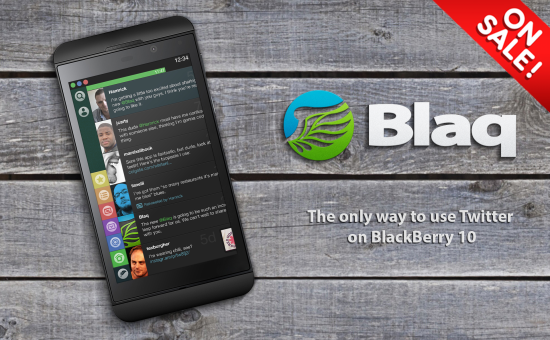 Where did the idea come from?
The idea for the app came from the idea to push the boundaries of what a Twitter app can do for you as a user. With a unique interface and tons of useful features not found in the stock Twitter app, it's more than just another Twitter client.
How long did it take to develop the app?
From concept to BlackBerry World release, it took one month. However, it's still a work in progress as customers continue to give feedback, which is used to update the app.
Who are your ideal customers?
The ideal customer is a power user of Twitter who needs just a bit more than the regular experience of Twitter. With scheduled tweets, tweet translation, hub integration, watchlists (notifications for individual users), home screen shortcuts, keyboard shortcuts and more, this app will save our customers lots of time.
Why should customers buy your app?
Based on the reasons above along with gesture-based actions, shortcuts, multiple-accounts in hub, real-time streaming, real-time and delayed notifications, there's little reason to avoid at least giving it a try.
If you were looking for an app like this, look no further and get it now.
Together with this app we are recommending a few other applications available on BlackBerry World:
Missed the previous episodes? Check them out to discover more high-quality apps for your BlackBerry.