This week we would like to highlight a great app that tracks metrics.
Vendor Stats is a native BlackBerry 10 application that provides vendors with metrics about their applications performance on BlackBerry World.
Features Include: metrics for download numbers, purchases and revenue with customizable time frames
To get more information about this great app, we asked the developer, Sven Ziegler of Sven Ziegler IT Solutions a few questions.
"As a BlackBerry Developer you're always on the hunt for additional ways to keep an eye on your vendor stats and app metrics"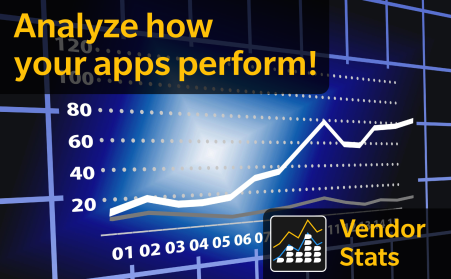 Where did the idea come from?
Analyzing different app-metrics has become very popular the last several months. I've been interested in stats my whole life and the interest didn't decrease when I started to release my first apps in 2011. So I was already keen about different ways to analyse downloads and purchases. The BlackBerry Vendor Portal already gives you a nice glimpse about how your apps perform, but you need to dig deeper and experiment with custom reports, to get more out of it. You can even download complete CSV files, but to be honest I have never been a big fan of doing analytics with Excel. I wanted to have all the data in one simple database. A database that would enable me to do more analytics. Ths idea was the starting point of Vendor Stats.
How long did it take to develop the app?
It took me about three weeks, from start to finish. That time span already includes a lot of testing and interaction with my totally engaged beta testers. Together we managed to add some very cool stuff to the first release.
Who are your ideal customers?
Every developer who has at least one app published in the BlackBerry World! It doesn't even matter if the app is developed for BlackBerry 10, the BlackBerry PlayBook or even the old legacy devices, because every app that is shown in the Vendor Portal is available for the statistics. As a developer you what to know the effects of your last promotion. Did the sales increase after the recent blog post? Did they increase after a feature on BlackBerry World? How do the downloads / purchases develop over the week / month / year? Find out what's working best for you and your apps.
Why should customers buy your app?
Vendor Stats offers the most efficient and reliable way to have a look at your key statistics! Access all the information you care about, even when you're on the go.
If you were looking for an app like this, look no further and get it now.
Together with this app we are recommending a few other applications available on BlackBerry World:
Missed the previous episodes? Check them out to discover more high-quality apps for your BlackBerry!