This week we would like to highlight an amazing app that provides a native Instagram experience.
Inst10 for Instagram gives users the opportunity to share their lives and keep up with other people by taking pictures and videos, customizing and posting on Instagram which then shares the post instantly on Facebook, Twitter, Tumblr and more!
Features Include: Video uploading and recording, multi-account support, headless hub integration, emoticon support and so much more.
To get more information about this great app, we asked the developer a few questions.
"Inst10 is a full-featured, native Instagram client for BlackBerry 10"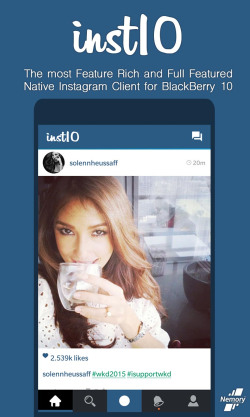 Where did the idea come from?
My users and friends were asking me to build a better Instagram Client for BlackBerry 10. First I looked into BlackBerry World for Clients and tried them all to see their features and how they were. I didn't find anything that my users really wanted. There was no Client that had Emojis + Emoticons support, Multi Accounts Support, Re-Direct posts, Edit Posts, Send and Receive Direct Messages, Themes/Wallpaper Customizations and more control over everything. I saw the potential of making a better Instagram Client that the people really wanted.
How long did it take to develop the app?
It took me a week to push the first Beta on BlackBerry® Beta Zone. It took me one month to finish the final version and then I finally published it in BlackBerry® World a week after.
Who are your ideal customers?
My ideal customers are the heavy Instagram users, those who use Instagram more often than any other social networking apps, those who want more customizations and control, and to those who are using Instagram professionally or for business.
Why should customers buy your app?
Inst10 is a Full Featured Native Instagram Client. It has the similar User Experience and User Interface to the original Instagram Client found on iOS and Android.
Inst10 also has awesome 3rd Party Features that cannot be found on the original. Features such as: Re-Gram + Re-Direct, Set Wallpapers + Wallpaper Store, Themes, Save Media to SD Card + Download Manager, Emojis + Emoticons Keyboard, App Security Layer with Password Lock, and Multi Accounts Support.
Inst10 also deeply integrates to the BlackBerry® 10 Operating System. Features include: Post a Media directly from the BlackBerry® Hub, Receive Hub Integrated Notifications, Chat and Comment directly from the Hub, Search a user/hashtag directly from the BlackBerry® Assistant Search, and also can show latest notifications through the Active Frame.
Almost all of Inst10's awesome features are customizable and toggable. This makes the app very personal to the user.
If you were looking for an app like this, look no further and get it now.
Together with this app we are recommending a few other applications available on BlackBerry World:
TimeLine: An application to create simple and beautiful timelines.
All-Notes Backup: Easily backup and share all your notes!
MA4Klout Plus: Spy on the popularity of any Twitter and Klout profiles
Missed the previous episodes? Check them out to discover more high-quality apps for your BlackBerry