Social media addict? QuickPost is definitely the app you must have on your BlackBerry.
QuickPost allows you to post to multiple social networks at once, with a single click. Facebook, Twitter, Instagram, BBM Channel and many more networks are now just one click away.
QuickPost co-founder is one of our BlackBerry Elites and we asked him a few questions to know more about this fantastic (and very popular!) application.
"QuickPost allows you to post messages and images across multiple accounts quickly and easily. QuickPost recognizes the accounts already on your device, so no additional setup is required"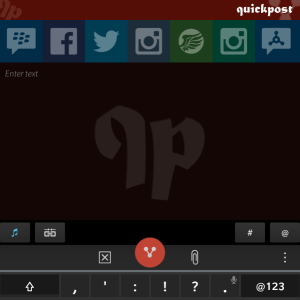 Where did the idea come from?
The idea of QuickPost came from the legacy BlackBerry OS, what we once knew as 'social feeds', and the ability to update your status across multiple social networks at once. This was one of my favourite features on my BlackBerry Bold 9900 and I knew I wasn't alone.
How long did it take to develop the app?
QuickPost started as a small one page application with very little design and just the ability to post text to BBM, Facebook and Twitter. After showing a few other BlackBerry enthusiasts what I was using it was clear there was a demand for the product and we developed a more polished version for public use in August 2013. QuickPost has been updated many times over the last two years to include a long list of unique features and refinements making a great user experience for BlackBerry users around the world.
Who are your ideal customers?
Our ideal customers would be anyone using social media on BlackBerry 10, who want to share across multiple social networks without having to open each app individually. We have a wide range of customers in all different demographics all over the world. You can connect with other QuickPost users on twitter by searching '#QuickPost'.
Why should customers buy your app?
QuickPost offers the native BlackBerry 10 experience, and recognizes the accounts already on the device so no additional setup is required. You can share text, edit and upload photos, share what you're listening to, and even backup a copy of your message or image to BlackBerry Remember. QuickPost works with a long list of native and third party applications making QuickPost your 'one stop for social sharing'.
If you are a power user of social media, go download QuickPost now!
Together with this app, as usual, we are recommending a few other applications available on BlackBerry World:
Missed the previous episodes? Check them out to discover more high-quality apps for your BlackBerry!