This week we would like to highlight a great app to keep track of your health data.
Health Pro is actually way more than that: it allows you to keep track and store a lot of data for many people, for example family members or a generic group of people (useful for a doctors to monitor a group of patients or for a sport coach to monitor their team's athletes).
Lots of features: multiple patients, charts, notes, formulas, Fitbit integration and much more.
As usual, to get more insights about this great app, we asked the developer a few questions.
"Health Pro is a portable health management system designed exclusively for BlackBerry 10"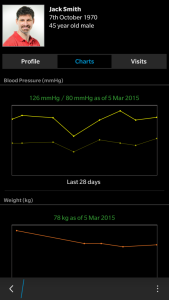 Where did the idea come from?
The idea came from my second job as an emergency room doctor. A major frustration when rapidly assessing patients is that many are unable to provide even the most basic information on their medical background. It wasn't until one patient surprised me by displaying a list of her medications within an app that I decided to develop a more complete solution.
How long did it take to develop the app?
I was hoping to get the app finished within a month but it took five whole months. Brainstorming began with sketches on paper. The goals were clear. However many small design challenges arose throughout development and several additional features were added along the way.
Who are your ideal customers?
The app is ideally suited to anyone who wants to maintain health records on groups of individuals without losing mobility. From consumers like families and individuals, to prosumers like doctors, physiotherapists, coaches, and community nurses.
Why should customers buy your app?
Health Pro is probably one of the most complete medical record management apps in the world. In addition to storing multiple medical profiles, you can customize the app even further with charts, journal entries, notes, bookmarks, formulas, and attachments. There's even a remote telemetry function where you can link a Fitbit account to each medical profile and monitor the health activity of multiple individuals simultaneously.
If you were looking for an app like this, look no further and get it now.
Together with this app, as usual, we are recommending a few other applications available on BlackBerry World:
Missed the previous episodes? Check them out to discover more high-quality apps for your BlackBerry