What about adding an extra layer of security to your BlackBerry smartphone?
Well, Danny Wong, a very prolific BlackBerry developer (we discussed another app developed by his company back in May), came up with a very cool app that allows you to password-protect some key applications on your phone. In particular, AppLock allows you to password-protect the BlackBerry Hub, the SMS app, Calendar, Contacts, the phone app and BlackBerry Assistant.
This gives you an additional level of flexibility and allows you, for example, to give your phone to another person (to use an app, for example), but preventing them from accessing your private data or making phone calls.
As usual, we asked Danny a few questions to know more about his app.
"AppLock is designed to password protect some BlackBerry® apps, the BlackBerry® Hub™, Text Message, Contacts, Calendar, Assistant and Phone applications from unauthorized access."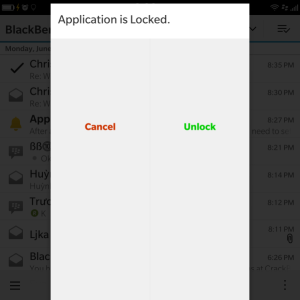 Where did the idea come from?
We had a similar AppLock application for the BlackBerry OS 7. It wasn't possible on BlackBerry 10 to lock applications until a good friend Roger Leblanc showed it could be done. Thanks Roger!!! [NOTE: Roger is another great developer from our dev community and Enterprise Developer Group Manager in Montreal, you can find him on Twitter]
How long did it take to develop the app?
Since Roger have done most of the R&D work it only took us one week to design and complete the AppLock application.
Who are your ideal customers?
AppLock is for everyone. The use cases are different from user to user. Some users just want to lock the BlackBerry Hub and others just want to lock the Phone application. For parents who let their children use their BlackBerrys. You need AppLock.
Why should customers buy your app?
If your BlackBerry is unlocked and someone picks it up they have access to all your apps. AppLock gives you another layer of security in protecting your information and investment. If you worry about your information then AppLock is the perfect tool. Also, by locking the Phone application AppLock can prevent miss dialing if you have your phone in your pocket.
If you want even more security for your BlackBerry Smartphone, get AppLock now!
Together with this app, as usual, we are recommending a few other applications. Here are another five great apps for this week:
Missed the previous episodes? Check them out to discover more high-quality apps for your BlackBerry!