Usually, when you are going to move from one BlackBerry to another, you want to make sure not to lose any data on you BlackBerry smartphone as well as having the ability to easily restore it to the new device. For this reason you need to find a good backup solution that can really save anything you have on your device, from multimedia files to call logs.
Ultimate Backup, developed by some members of our Developer Community in India, could be the perfect solution for this task. The number of features it provides is impressive, definitely much better than other solutions available in the market.
Together with this app, as usual, we are promoting three other  applications. Here are our selection this week:
Space TV: a great app to stay up to date on everything from Astrophysics and Astronomy
Later Send: schedule when to send your emails
Blueprints: create your custom blueprints easily
Now let me share more information on Ultimate Backup:
"Ultimate Backup is an all in one Backup Solution for the BlackBerry 10 devices. It comes with AES256 encryption, backup to multiple clouds at the same time and many more ! The application also comes with password protection to prevent unauthorized access."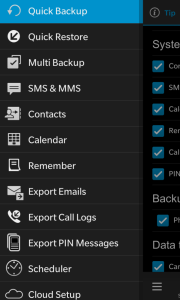 Where does the idea come from?
From the customers. We have always listened to the requests and ideas from the customers. We implemented all features that our customers requested us. As a result of this, we were able to build an application that met the requirements of end users.
How long did it take to develop the app?
It took us 1 year to develop the application with all those useful features.
Who are your ideal customers?
General users as well as the Business users.
Why should our customers buy your app?
"Because data is the most precious thing in the smartphone.
It's crucial to protect it. And to protect one's data or the organization's data, it is important to implement a data backup and recovery solution. Backing up files and Critical system components can protect against accidental loss of user data, database corruption, hardware failures, thefts and even natural disasters." The application "Ultimate Backup for BlackBerry 10" is the best solution to backup and Protect the data using Encryption. It can keep backup of Files, folders and all critical system components including the Contacts, SMS, Calendar, Pin messages, Call Logs ,Emails, Remember entries and many more. It safeguards the data in case of breakdown, thefts and accidental deletion. It could save great amounts of time as well as ensure that the data is secure in the case of disaster.
If anyone is looking to have the entire phone's data backed up and protected, Ultimate backup for BlackBerry 10 is a one stop solution for him. Highly recommended! Get it now on BlackBerry World.
Missed the previous episodes? Check them out to discover more high-quality apps for your BlackBerry!