Global travelers, students, teachers, business owners, professionals but also anyone who deals with people from other countries, understand very well how a "translator" to keep in your smartphone could be a very useful companion.
For this reason this week we would like to tell you more about TextSpeech Translate, an new app "made in Canada" and developed by a member of our developer community, that allows you to translate anything in over 30 different languages.
Together with this app, as usual, we are promoting three other applications. Here are our selection this week:
TextSpeech Translate has been developed by Danny Wong, aka the person behind Toysoft Inc and a long time member of our BlackBerry developer community.
"Text Speech Translate can speak any text that you type or speak a text file in any of the supported languages (over 30). Text Speech Translate can also translate words or text from one language to another language."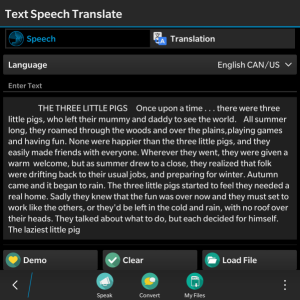 Where does the idea come from?
The idea came from our Power Tools application. Power Tools has a feature where it will read the incoming email and text message automatically. There are many of times where I want to save the speech to a mp3 file and there isn't a solution anywhere to be found. The language translation was added because many language translation apps do not support speech or it does not allow to save to mp3 file. With our application you can easily save the translated text or email to a mp3 file for sharing, teaching or for reference. Also our application is integrated with the BlackBerry Hub so that you can easily speak and convert a email message, text file or any text that you can copy from websites, documents, ebooks or any text.
How long did it take to develop the app?
Most of the codes are reused from the Power Tools application. The language translation feature took about couple of days to code. The development cycle took about a week.
Who are your ideal customers?
Our application is for everyone. Some users might just want to convert their email message or text file to mp3 or have the application read the message. Some might use the application to learn other languages. There many other use cases for the application.
Why should our customers buy your app?
Learning and teaching a new language is not easy but with our application it will help you to learn a new language easier and to better communicate with people around you. Also by purchasing the application it will help us improve the application and write more BlackBerry 10 Native applications.
I really think this is an amazing app, highly recommended! Get it now on BlackBerry World.
Missed the previous episodes? Check them out to discover more high-quality apps for your BlackBerry!