How many screenshots do you take on your BlackBerry? Well, there are some users who take lots of screenshots and the main problem is that they can't easily filter a screenshot from the rest of their image library. This week on BlackBerry World we are featuring a very cool app that solves this problem: Only Screenshots.
Together with that, as usual, we are featuring three other great applications. Here are our picks this week:
Only Screenshots has been developed by our Developer Elite Gyubok Baik, aka Qbo, a very prolific member of our developer community. You can find more apps from Qbo here.
"Use Only Screenshots to view/manage your screenshots. Handy tool for people who constantly take screenshots on their phones."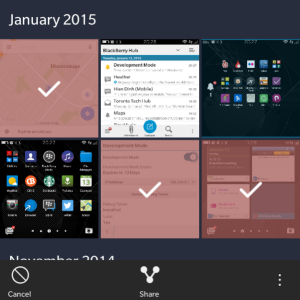 Where does the idea come from?
Like many other BlackBerry 10 users, I take a lot of photos but I also take lot of screenshots of a website to quickly share with my friends and family. Photos and screenshots serve two distinct purposes and over time, I noticed that my gallery was filling up with mixture of those two. I wanted a solution to separate the photos and screenshots and view them in a pleasant manner.
How long did it take to develop the app?
The Only Screenshots app is rather a simple app (Editor's note: for a great dev like him!). From start to finish (including design), it took merely 2 hours.
Who are your ideal customers?
Anyone who is looking for a simple, fast way to view and manage only screenshots.
Why should our customers buy your app?
The app is free to download and completely free to use (no in-app purchasable items). So why wouldn't you download my app
A very handy tool I highly recommend: get Only Screenshots now!
Missed the previous episodes? Check them out to discover more high-quality apps for your BlackBerry!