Here we are again for our weekly blog post about a few very popular applications developed by some members of our developer community. You will find these apps on the BlackBerry World Carousel this week and our @BlackBerryDev Twitter account will tweet about them during the coming week.
So, what do we have this week? Here it is:
As usual, we would like to give you more details about one of the apps above, tell you more about its story and why the developer decided to start working on it.
This week we are going to talk about Snap2Share by Marco Bavagnoli (do you remember him? We featured Marco and his great work on this blog already), an app that features 200+ reviews with an average of 4/5 stars..
"Snap2Share allows you to modify a photo or a screenshot on your device before sharing it, like blurring out some sensible data, highlighting some parts of the photo or simply adding some text"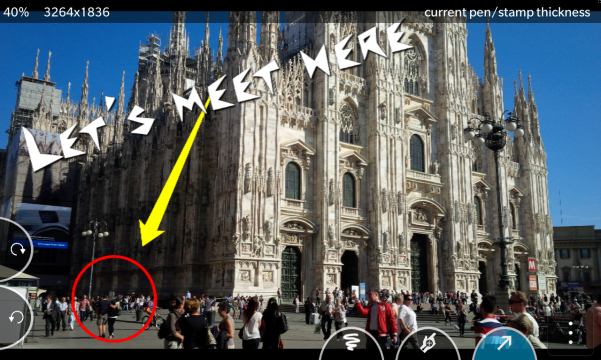 As usual, we asked Marco a few questions:
Where does the idea come from?
The main idea that led me to start coding this app, was the need of sharing a screenshot of an email and blur out (or highlight) some sensible data like phone numbers, PINs, other email adddresses or even faces (for privacy reasons). Most people perform this task by copying the screenshots to their PC, work on the image and copying it back to the phone to share it. Snap2Share allows you to do that very quickly straight from your BlackBerry.
How long did it take to develop the app?
The idea came afterward I was playing with the QNX screen library that I used for another app. This app manipulates images to build transictional effects between them and since I had a lot of fun learning to use that library, I started building a Cascades component to paint over images. After about a month I released the first version of this app.
What are your ideal customers?
Tipically a user who shares a lot of images, either by email or on social networks. By sharing an image tweaked with arrows, ellipses, text or finger painting to point out or highligth objects, it is really faster and easier to comunicate with friends and co-workers.
With the latest release, I have introduced other tools like the lens that can be used to have fun by deforming friend faces or the creepy, curvy and feather tools. There is also a brush tool that lets users paint with a predefined transparent image.
Why should our customers buy your app?
I wanted to release a freemium app thinking that every users should try all the functionalities before purchasing it. The only actions you can't do are saving or sharing the image, that are pro-features. You can check if the app works well for you before buying it, something my users really appreciate.
I personally love this app, great idea and great implementation. If you share lots of images from your device, please go to BlackBerry World and grab a copy now.
Missed the previous episodes? Check them out to discover more high-quality apps for your BlackBerry: