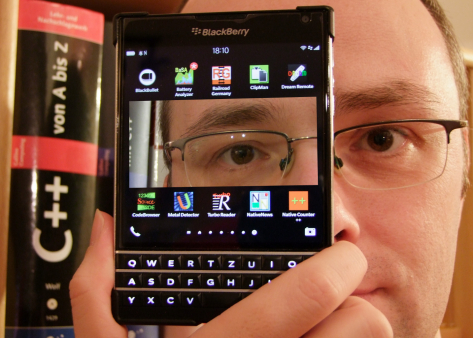 Michael Muth (@QtHelex on Twitter) is one of the top members of our developer community, member of an enterprise developer group in Germany and, last but not least, one of our Developer Elites.
The interesting fact, though, is that unlike some other developers we featured on this blog in the past few weeks, he is not a long time BlackBerry developer nor a long-time BlackBerry user and abuser. He got to know BlackBerry just before the launch of BlackBerry 10 and, literally, it's been love at first sight. 
As Michael told me, he started developing apps driven only by passion.
"I had a shiny new Smartphone, an expensive Dreambox satellite receiver in the living room and searched for a solution to change the channels or pause a recording from the bedroom late in the evening without the need to buy a second Dreambox."
This was during the time when a different big mobile company owned the development framework Qt which was already established on desktop and especially in the Embedded Devices industry. During these the fundament was created to build extremely resource friendly and powerful mobile Apps based on Qt, C++ and JavaScript for nearly every mobile platform.
"At this point I had published several apps already, made a name within the community, my projects were supported by some really huge companies like Intel, I became Qt Ambadassor, won several coding competitions and invested about 2 years to refresh my C++ knowledge from my studies and to learn the insides of Qt."
As many other developers, his love for BlackBerry 10 started during one of the BlackBerry Jam events we organized back in 2012 and 2013. After he talked to some members of the developer relations team and heard about the plans for BlackBerry 10 and QNX, he finally decided where the new home for all his apps was: BlackBerry!
I asked Michael why he found the story about BlackBerry 10 "extremely convincing" (as he told me):
"The most important part? You have chosen Qt as your native main framework! QML (QtQuick) Design Language was adapted and redesigned by BlackBerry as the new Cascades Language to fit exactly the needs of the new platform. You see, I select the platform I develop for thoughtful, by passion and technical aspects."
After switching to BlackBerry, he felt to be again one small developer out of many and he had to start building his reputation from scratch again. Michael worked very hard and thanks to the support of blogs, other developers or simply enthusiast members of the BlackBerry community (some of them, for example, helped him translate his apps into other languages) his apps got the deserved popularity and, last but not least, he was selected to be part of the Developer Elite community, something he is very proud of (don't tell anyone, but I picked his name… and I am very proud of that!).
One of the most important results of the process described above, is that he is getting more and more requests to develop apps for companies as commissional work, projects that he selects very carefully. Michael told me he wants to make sure he loves the ideas behind those projects in order to be able to work on them with the same passion he put in his most popular apps like ClipMan, BlackBullet or BaSA.
If you liked this success story, please take a look at the previous ones, too:
Interested to know more about our Enterprise Developer Groups? Do you want to join one? Take a look here to find the one closest to you. If you are interested in starting a new one, instead, please fill this form and we will get back to you as soon as we can.