Last week we kicked off a new program to provide more visibility to some very high-quality applications developed by key members of our developer community.
The results have been very positive so far and for this reason we are very happy to continue this initiative for this week as well.
Here are the apps featured on the carousel this week, developed either by one of our Developer Elites or from a member of our Enterprise Developer Groups:
•    SoundScape: relaxing sounds to stay focused at work
•    Video Shrinker: compress and share any video
•    Work Wide: use two apps at the same time
•    Max Secure Antivirus: keep your smartphone protected
Like last week, we would like to focus on one of those apps and ask the developer some insights on how the app was developed, where the idea came from and so on.
This week, the app we would like to feature is "Work Wide" developed by one of our Developer Elites, Brian Scheirer (@brianscheirer), together with another dev, Olaf Hanson (@olaf_d), both based in US.

" Work Wide is specifically designed to allow for maximum productivity on your BlackBerry Passport. Using the wide screen, Work Wide lets you have two "apps" side by side.
It has a built in Web Browser, Composer, Calculator, Picture Viewer, and Txt Viewer."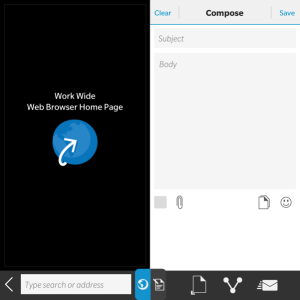 We asked Brian a few questions.
Where does the idea come from?
Originally Work Wide was exclusive to the Passport because while watching the launch event it dawned on me that I could provide a really unique experience to Passport owners with an app that utilizes its unique form factor. The idea to expand support to other devices was purely due to popular demand.
How long did it take to develop the app?
The version that is released today is the result of 2 developers (myself and Olaf Hanson) working continuously since Oct 2014. The beauty of this type of app is we can indefinitely add more integration and features as long as there is user interest.
What are your ideal customers?
Work Wide's target audience is much the same as BlackBerry as a whole target audience. We want to help people who want to "get things done". And with Work Wide we hope to create a natural extension to the BlackBerry experience with different take on the multitasking workflow.
Why should our customers buy your app?
First off there is nothing else like Work Wide in BlackBerry World. Second as I said above, we are catering to what BlackBerry users want: multitasking, efficiency, and productivity. And more to that point, Work Wide hopes to push the limits of what it means to do things like multitasking with a wide variety of use cases.
"Work Wide is developed by two passionate BlackBerry developers who have also been BlackBerry device users (by choice) for many years. We are both very excited about what we've created so far and plan to continue our development efforts on this app for the foreseeable future."
If you are a power multitasker, go to BlackBerry World and grab your copy now.