Here we are with another episode of our Enterprise Developer Groups Spotlight series, where I am pleased to highlight some great accomplishments by one of the youngest members of our developer community, Toby Clench (@TundraCore on Twitter), 16 years old (yes, that's correct…), co-founder of the Enterprise Developer Group Bristol (nickname "Brizberrydevs").
Upon the release of the first BlackBerry 10 device (the BlackBerry Z10), Toby looked into web development (HTML5, CSS & JS) and spent a few months learning web development technologies to create applications for BlackBerry 10. It wasn't until October 2013 that he saw the full potential in developing applications, so he pursued development in Cascades, an entirely new blend of coding languages (QML & C++) to him, so he began creating native applications.
Fast forward a year and a half and Toby has created strong partnerships within the development community and with the BlackBerry community – both staff and press publications – to help create a successful application development business that is now proud to be a BlackBerry Enterprise Partner, too.
Why BlackBerry? Well, if you ask Toby, here is his answer (hint: it's all about security):
"from a personal perspective, security has always been something that I have considered as being of high importance: both on my device and in applications.  Security is the primary reason that I have always put my trust in BlackBerry and continued to use the devices (starting with the Curve 8520 > Curve 9320 > Z10 > Z30 > Passport)"
Security was always a key fundamental factor, in the development of Hub Browser, Toby's main (very popular) app available in BlackBerry World. For those not familiar with Toby's app yet, Hub Browser is intended to give you quick and easy access to links sent to you in emails, text messages – or anywhere across the BlackBerry 10 OS really – without the need to leave the BlackBerry Hub or current application that you are in.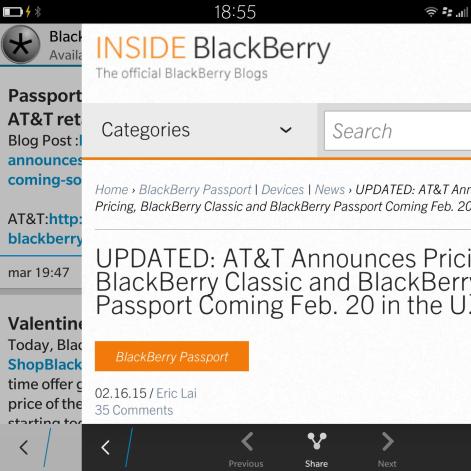 "As not enough browsers on the marketplace today are providing security measures to help keep users safe, security has been embedded within Hub Browser since the very beginning.
For example, user information is not transmitted to any servers and the data itself remains on the device with the option to clear all of the saved credentials from within the application settings.
Further enhancements – including the ability to set a date / time to clear all of the storage – are coming to Hub Browser, to provide the most secure browsing experience for users of the BlackBerry 10 platform."
Toby is now busy with a few other projects in the enterprise space and we will be happy to share his achievements in this blog in the future, as an inspiration for other young devs. Feel free to connect with him on his blog and BBM Channel (PIN: C00120C46).
If you liked this success story, please take a look at the previous ones, too:
Interested to know more about our Enterprise Developer Groups? Do you want to join one? Take a look here to find the one closest to you. If you are interested in starting a new one, instead, please fill this form and we will get back to you as soon as we can.