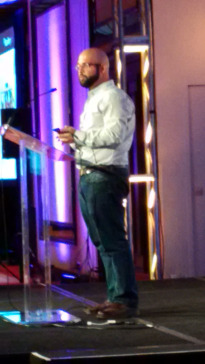 Just last week I attended a conference in Orlando called the App Summit.  The theme this year was "Apps Mean Business", so it made sense that we were Platinum sponsors given our focus as an organization.  Representatives from companies large and small attended this great event.  From low-cost tablet manufacturers like Datawind, to dev shops like BiTE Interactive, many aspects of the enterprise application ecosystem were covered.
The talks and panels were very informative, given by industry executives with tremendous experience in the mobility industry.  After attending all of the talks, I found two trends emerging.
The first was that while everyone is familiar with mobility, there are still plenty of enterprises that need to implement it effectively within their organizations.  Talks centering around mobility marketing for B2C; collaboration and workflow models for both internal development, as well as B2B; why applications fail; app monetization, and more… These talks focused on how current enterprises can improve their operations by embracing, or improving on, mobility strategies.
The second was that IoT and wearables are quickly finding their way into the enterprise.  This wasn't a surprise, but what is interesting is the amount of investment already committed by large industries today.  This trend will definitely see exponential increase in the coming years.
My two talks fell under the first category, because I firmly believe we need to get the basic necessities deployed within enterprises before we move onto the next step (IoT, wearables, etc…).  Do I think IoT and wearables are important to Enterprises? Absolutely! BlackBerry is getting involved in this very area.  But, enterprises need to have a firm handle on Enterprise Mobility Management (EMM) before they start dabbling in the machine-to-machine space.
My first talk focused on cross-platform mobile app development for the enterprise, and the benefits of utilizing cross-platform frameworks over separate native tool sets.  This is a topic I could discuss all day, and it appeared the crowd could as well!
The second talk discussed the growing need for mobile applications to be utilized within the enterprise to enable more productive employees.  Providing secure access to important company information via mobile devices is critical to enhance employee effectiveness in our mobile world.  Enterprises need more than email.
At the end of the day, my largest take-away was that no matter how big or small companies are, they are all seeking to advance their organizations' involvement in mobility…and business apps are becoming the next big shift.
Learn more about Enterprise App Development here: http://developer.blackberry.com/develop/enterprise/enterprise_overview.html