For our bi-monthly Enterprise Developer Groups Spotlight series, today I am going to tell you more about a great BlackBerry developer from UK, Dave Burrows, manager of the Enterprise Developer Group Leeds.
Dave is a long time BlackBerry Developer and his company, Interchange Group, has been a BlackBerry partner and developing BlackBerry apps since 2002 and is now a BlackBerry Platinum Enterprise Partner.
Their BlackBerry development capability has been proven time and time again with customers like Transport for London, Aimia (Nectar), Telegraph Media Group, QVC, O2 and BSkyB for whom they wrote the BlackBerry award winning Sky Sports Football Centre App as well as the BlackBerry Sky News App. Interchange Group was also selected to provide Argyll Communicare with its customized BlackBerry smartphone lone worker solution.
This time, Dave and his team brought to BlackBerry World the BlackBerry 10 version of their popular BBOS app Triplogga. They developed Triplogga both as an app for general release but also to fix a personal need since Dave needed a reliable trip logging system on his BlackBerry.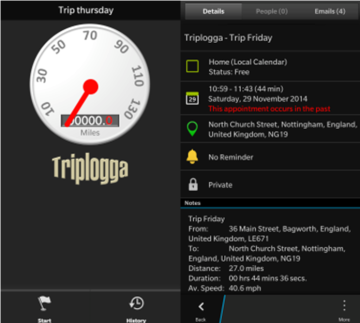 The reason Triplogga is so useful is that the trip gets logged automatically, one doesn't have to remember to press a "start button" to start logging, nor a "stop button" to stop logging. This was a big issue for Dave, and their customers, with some other apps. When you're in a rush it's very easy to forget to run an app and press the start button before making a journey. With Triplogga they wanted the app to detect the start and end of trips automatically. The BlackBerry Bluetooth APIs allowed them to detect the vehicle's Bluetooth connection as a trigger mechanism for the logging.
You can, of course, manually log your business and personal vehicle mileage with a single click at the start and end of each journey if you don't have Bluetooth in your vehicle, of course. Last but not least, they've also included NFC trigger support too. Users will then be able to use an NFC tag to start the logging if they don't have Bluetooth in their vehicle.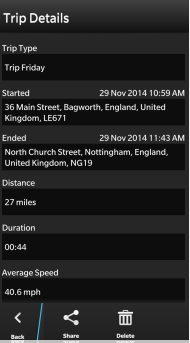 Dave highlighted that they wanted Triplogga to be a part of the user's BlackBerry device and not just another app that you have to keep launching to use.
Using the BlackBerry 10 PIM integration APIs along with the headless API features means that the app can log each journey straight into the device's calendar and the appointment shows the exact start and stop times in the appointment body. Amazing, isn't it?
They also use the BlackBerry Maps APIs to retrieve the address of start and stop points too.
In Dave's own words:
"Having access to such a rich suite of on-device API has meant we've been able to augment the trip data with useful information without using a server. In fact, on a day to day basis a Bluetooth- enabled vehicle user might not launch the Triplogga user interface at all. All the information needed just appears in the diary and (on BlackBerry 10) the BlackBerry Hub notifies you when trips are being recorded in real time. Until you want to review/share your data It will just carry on logging your trips for you."
Mostly Dave expects users to want to keep their trip logs private, and appointments can (optionally) be marked as private; but they have also used the sharing framework to allow users to email trip information as CSV and KML files when they do want to share (or just import the data into a spreadsheet on their PC for use in monthly reports). With the BlackBerry 10 version, you can even export an entire month as a CSV file which makes expense claims easier still.
I find Triplogga a fantastic app for those who drive a lot for business. It can be used to justify mileage claims to employers or customers, as well as minimise the chance of forgetting to log your mileage in the first place. Dave and his company also provide white label solution for big companies which require a fully customized version of their app.
If you liked this success story, please take a look at the previous ones, too (here, here and here).
Interested to know more about our Enterprise Developer Groups? Do you want to join one? Take a look here to find the one closest to you. If you are interested in starting a new one, instead, please fill this form and we will get back to you as soon as we can.