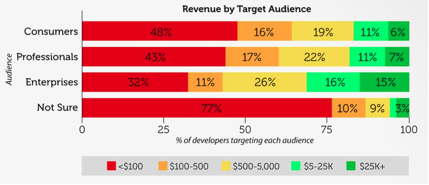 Highlighting opportunities for mobile developers in enterprise and financial industries.
Think Holistically
In June 2014, Alex Manea – Manager of Security Services here at BlackBerry – told the 2014 Chief Information Officer Leadership Forum in Chicago:
"[In EMM], what we all need to start thinking about is how we manage the data and how we manage the apps. If we look at MDM, mobile application management, and corporate data leak prevention – we need to look at it holistically."
Holistic is an important word around here. When it comes to mobility and Enterprise Mobility Management (EMM), we see everything as interconnected.
That includes app migration.
Managing Migration
When one of the world's largest financial services companies considered the task of migrating its most powerful app for their new EMM platform and new devices, they understood the challenges and knew they could turn to BlackBerry for support.
Ranked by customers and industry experts as among the best of the best in their sector, this world-class company is dedicated to excellence and saw the merits of a holistic approach to their migration.
The global financial crisis in 2008 damaged the world's perception of the entire finance industry for a time. While the rebound since then has been impressive, this company actively protects its reputation by maintaining the highest standard of performance in its operations. Clients and partners would feel the effects if the migration was less than perfect, so the transition had to be timely and flawless.
Risk Management a Key Priority
Moving seamlessly to a new mobility platform and all new devices takes technical expertise, especially in an industry that demands security and needs to meet the world's toughest regulatory requirements.
What this company needed was a partner that understood the full picture and that could support the migration through all aspects.
The Full Picture
BlackBerry continues to be the only EMM provider to address the whole picture, from devices to app development and from technical support to Mobile Device Management (MDM) and Mobile Application Management (MAM).
We invest time and talent in our customer relationships, and when we talk about app migration, we tackle the whole picture: strategy, application architecture, regulatory compliance, and all factors critical to a successful migration. Our role is more of a strategic partner than a typical vendor.
Our standards-based development frameworks make it easy to extend apps for multi-platform use. Whether our customers want to build HTML5, native, or hybrid apps, we've got extensive experience with all these approaches and toolkits to ease implementation.
This customer favored a native app, so we brought in a specialist team to collaborate on the development work.
Read the the case study to find out how this company successfully migrated its most powerful app.