Editor's Note: Co-Authored by Joseph Rafoul – DH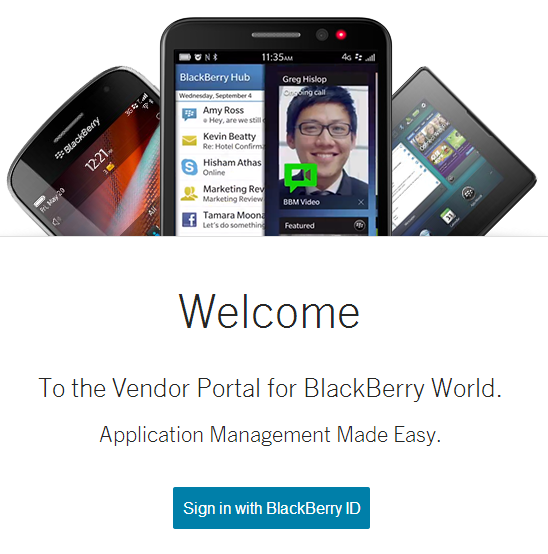 Redesigned User Interface
Less than 2 weeks ago, we launched the new and improved BlackBerry World Vendor Portal. Our primary focus of the portal redesign was improving the user experience. Here's a list of what we've updated.
New UI look and feel
Streamlined process for submitting apps
Simplified management of screenshots and images – Drag & Drop
Localized screenshots
Promotion codes
License type management: switch from free to paid
Enhanced reports: more detailed and specific for downloads, purchases or subscriptions
Reports for customer reviews
Both preconfigured and custom charts for apps and promotions
---
User Interface
Immediately after signing-in, you'll notice some obvious changes to the user interface. The Products page has been designated as your home screen since it's the page that you'll most likely visit after signing-in. Plus, the new uncluttered layout and always present navigation menu allow you to explore and manage your vendor account with ease.
Product Search and Filter
If you happen to manage lots of apps, then you'll certainly appreciate the product search and filter features. To easily find a product, simply begin typing the product name in the "Search for Products" field at the top of the Products page. The suggestive search mechanism will automatically suggest products that match your search terms.
The filter feature, also located at the top of the Products page, allows you to create a refined view of your products. For example, you can easily find and continue a new product submission by applying a filter to only show products whose status is currently set to Draft.
Drag and Drop
Drag and drop capabilities are new in the vendor portal. You can now upload your BAR files, icons and other graphics by dragging them onto the designated area of the page.
Once uploaded, you can also easily reorder your screenshots by dragging them into the position that you desire.

To learn how to perform specific operations in the new vendor portal, visit the page below.
BlackBerry World Vendor Portal Documentation
---
Promo Codes Have Arrived!
Included in the portal redesign, we added the ability for you to create and manage promotional codes that you can distribute to customers to redeem for free copies of your paid Up For Sale BlackBerry 10 apps.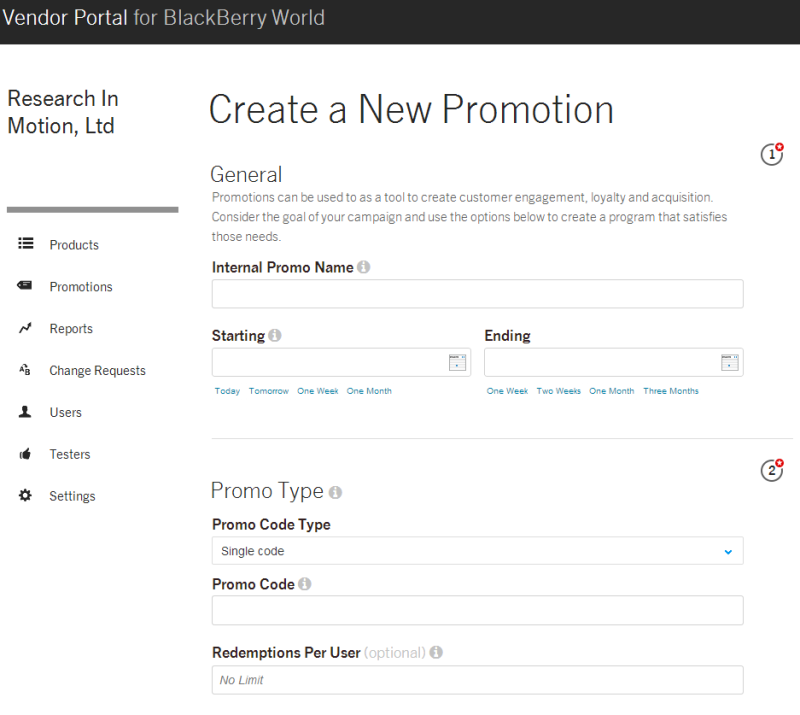 You have the option to create a single vanity code that can be advertised to a broad user base, or generate unique codes that can be distributed to individual customers. You can also control the exact start and end times of your promotion and the total number of redemptions.
Use promotions in your marketing campaigns to attract new customers and improve your brand awareness.
For more information about promotions including instructions for how to setup a promotion for your application, refer to the documentation link below.