The first of three webcasts on the benefits of the Amazon Developer Program was primed with useful tips, and was an ideal intro to all things Amazon for BlackBerry app developers.
New Dates for APAC
To be sure our Asia-Pacific developer community can access this helpful content live and interact with our experts, we're running the first two webcasts again at a special time. If you're in the APAC region, register now. The first session, "Introduction to the Amazon Developer Program (APAC)", airs September 8, 2014 10:00:00 PM EDT.
Recap: Introducing BlackBerry Developers to the Amazon Appstore
Read a recap of the first webcast below or listen to the recording.
The presentation started with a quick intro by Lou Gazzola, Senior Marketing Manager on the BlackBerry Ecosystem Solutions Team. Lou welcomed BlackBerry developers, let them know that Amazon represents a great opportunity to find new audiences and opportunities, and drove home the point that Amazon is really dedicated to their success. Both companies are excited that BlackBerry 10.3 will have the Amazon Appstore preloaded so BlackBerry customers can access their favorite apps and games right from the Amazon Appstore.
Lou then turned it over to Mike F. Hines, Amazon Developer Evangelist, who presented the rest of the session.
Mike started with the basics on the Amazon Appstore. While fundamentally, it's the place to buy and sell Amazon apps, it does a whole lot more.
It's a more optimized app store, he said. For developers, it's a place to reach new customers and new markets, engage them for more sessions and longer sessions, and earn more money in different ways.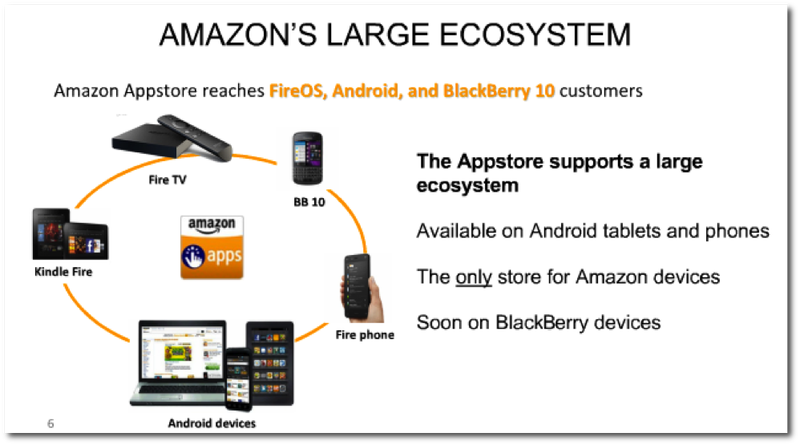 The Amazon Appstore wants to help increase your reach. It's present in over 200 countries and territories, and is the only app store available on millions of Kindle Fire devices.
And it's big: today they've got over 250,000 apps worldwide.
But that volume doesn't slow things down. Amazon will have an actual human review your app and get back to you fast with any required updates/changes: their turnaround time is about 2 hours for existing developers and 24 hours for new ones. Pretty amazing.
Amazon is legendary when it comes to helping users discover new products they might like, and their Appstore is no different. Its recommendation engine surfaces apps that might pique your interest.
Once you buy an app, it's available on all your devices – tablets, phones, and Fire TV – increasing daily and weekly session minutes.
Amazon has developed a unique 'coins' system allowing developers to reward their customers. Users can buy them in bulk for a discount – great for savings, incentives, and deep engagement. But as an app developer, qualify for the Developer Select Program and you can give away coins so users have more incentive to buy your app or make in-app purchases afterwards.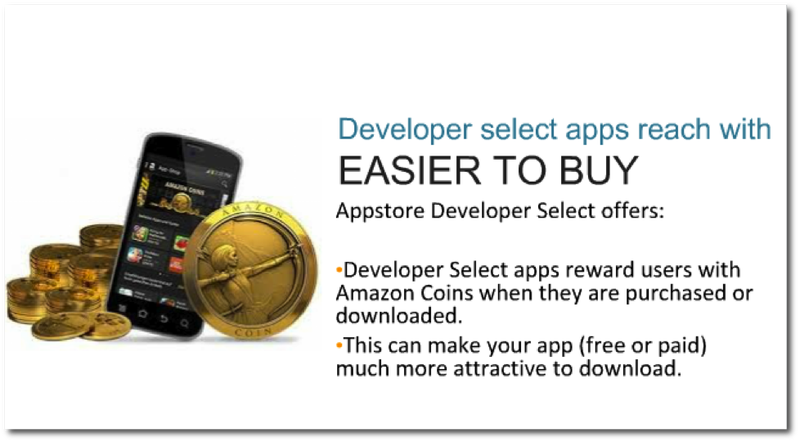 Gain access to the Appstore Developer Select Program when you submit an outstanding app with solid coding – you'll get 500,000 free ad impressions in the Amazon ad network, higher visibility for your app in the Appstore and more.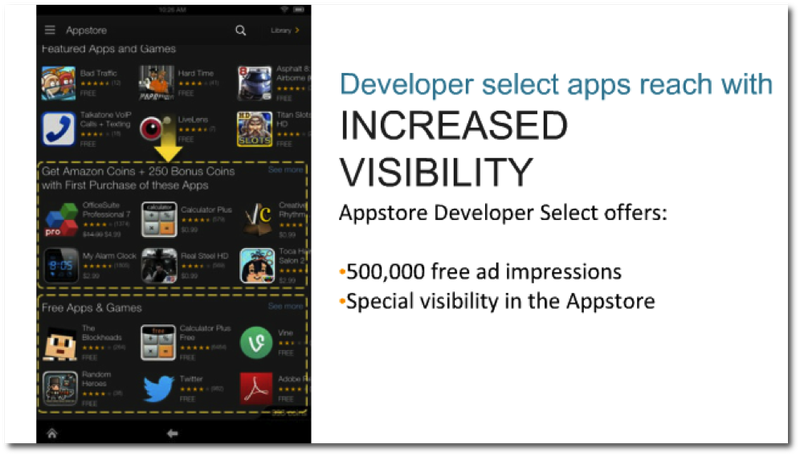 The Developer Select Program also delivers a free app of the day, to entice more check-ins and get more eyes on your product.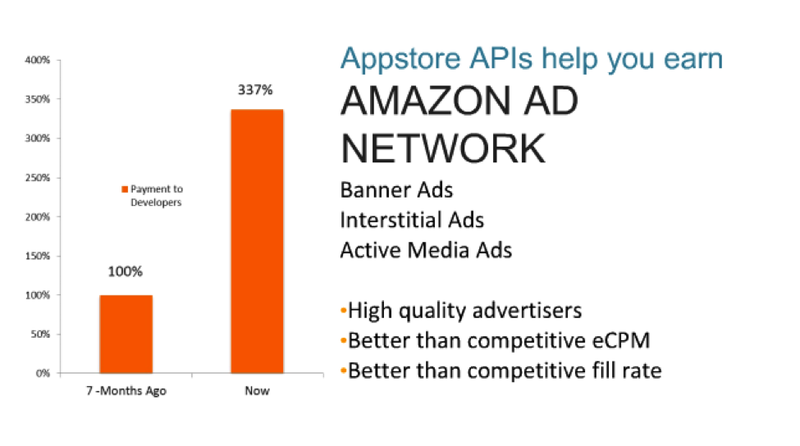 Mike talked about the Game Circle API including good reasons for including leader boards and achievement scales (easy to add), and also mentioned the Whispersync API, which enables functionality across devices so you can always pick up right where you left off (starting over again is the worst!).
He also mentioned a cool device messaging API that allows for low-cost re-engagement of disengaged users. You can remind them of why they were into your app in the first place, or let them know about special events to get them back in action.
One of the most valuable APIs available makes it easy to carry out A/B testing. Because long-term users are more likely to buy more, A/B testing allows you to test several scenarios or variables with real customers while your app is in market. That way, you can fine-tune your app based on real insight instead of guessing. Nice.
In-app purchasing is huge. The Amazon App Store supports consumables, entitlements, and selling physical items. It keeps track of everything, giving you easy options to sell content and materials associated with your brand.
You can even take an existing APK to the App Store – 75% of apps just work, and in some cases it's simply a matter of switching one or two APIs. Plus, a lot of the metadata can simply be reused.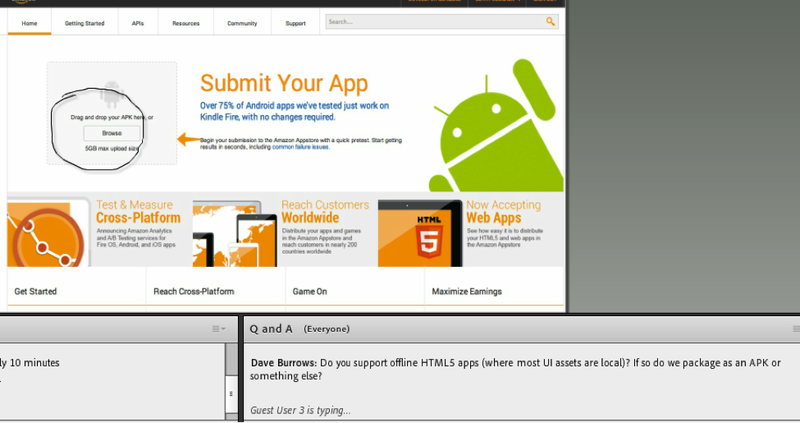 Is it easy to get started? Put it this way: Mike Hines shares his contact information and invites developers to connect with him if they're having any trouble. So far no one has needed his help. Plus, there are tons of sample apps, sample code, Javadocs, documentation and video to help you out. It's really as easy as registering as a developer, dragging your APK into a box and finding out if there are any issues – either way, you're on the fast road to the Amazon Appstore.
That said, to get the full story, you need to hear Mike walk through the details.
The next edition of our three-part series focuses on How to get your apps into the Amazon Appstore
Dial in on Thursday, August 28th at 2pm. See you then. And if you miss it, look for a link to the archive right here on the Developer Blog.