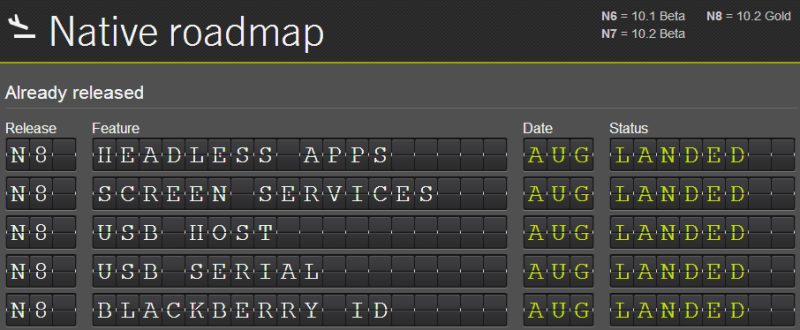 We recently updated our flight boards to give you a heads up on the feature functionality that we plan to land in all of our SDKs, as well as the upcoming BlackBerry 10.3 SDK OS. We currently have the deliveries scheduled to arrive in May, and we're eager to get the beta of the 10.3 SDK OS and updated tooling in your hands so you can provide your feedback to the SDK teams.
We have some more features planned for the separate gold release, and as we solidify requirements and timelines, we'll continue to refine the roadmaps to provide more details and insight on the upcoming features.
Now is the time for you to give your feedback and questions to our teams for the current mapped features and functionality for your favorite SDK. There are a lot of different ways to contact our teams through the comment section below, developer forums, developer issue tracker, tweeting @BlackBerryDev, posting on Facebook or through your favorite Developer Relations and Product Management representative.
Where do I find these roadmaps?
You can check out the roadmap for your favorite SDK by visiting the following links:
I noticed that Adobe AIR wasn't included, why is that?
We'd like to take this opportunity to let everyone know that the on-device Adobe AIR runtime will continue to be included as part of BlackBerry 10 OS version 10.3, but will no longer be included as an on-device runtime starting with BlackBerry 10 OS version 10.3.1.
There are a few different options for migrating your existing Adobe AIR application, including using the Android version of the Adobe AIR captive runtime or porting it to other compatible BlackBerry 10 technologies. We have posted a FAQ area on our website that should cover the majority of your questions, as well as provide you with development guides on how to port your application to a compatible technology.
If these FAQs don't answer your questions around the Adobe AIR changes on BlackBerry 10, please feel free to leave a comment on this blog article or reach out to us online through all the communication channels mentioned previously in this post.