The following guest blog post comes to us from Richard Fox-Ivey at SympleID. I met Richard recently and he gave me excellent BlackBerry demonstration of SympleID, an NFC-powered solution for easy online authentication. I was very pleased to seeing such a great implementation on BlackBerry and I couldn't resist asking him to write guest post for us. Thanks Richard!
Making Things 'Symple' on BlackBerry 10 and BlackBerry 7
Even though the average person has more than 20 online accounts, most have just a few passwords which they recycle for everything. And if we're being honest, those "few passwords" are usually pretty weak to begin with. Not to mention it's a major pain when a site you use gets hacked (Adobe anyone?) and you need to figure out where else you used the same password…
Unfortunately, with the explosion of social media and the online world in general, things aren't getting any better; everything needs a username and password. The problem is browser password management solutions aren't known for being terribly secure; storing your credentials "in the cloud" makes a tempting target and most other password managers aren't simple to use.
We wanted to create an alternative that was secure but also easy, fun to use and that leveraged hardware users already had (their BlackBerry). We wanted it to be as easy as tapping to pay at the grocery store.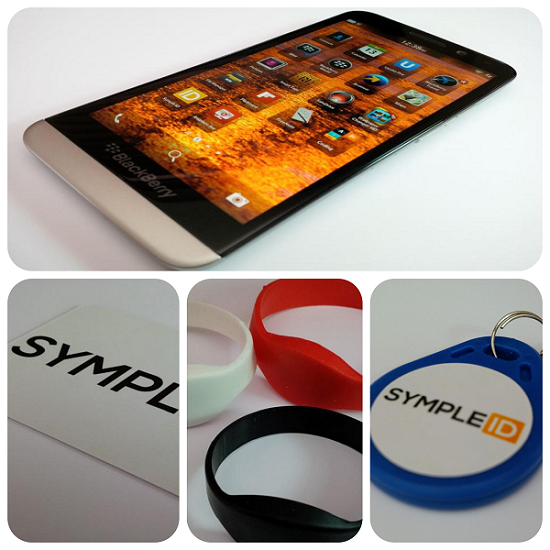 Enter Symple ID. Symple ID brings "tap to pay" ease of use to the password management world. Symple ID is a two-factor authentication solution that designed to work on every website and turns your BlackBerry into your personal online ID. Symple ID combines a user's existing BlackBerry (factor #1) with a unique digital ID (an NFC-based token, factor #2) to create a simple yet secure solution.
To sign into sites on their laptop/desktop, users simply tap their BlackBerry to their digital ID when prompted and Symple ID transmits their encrypted credentials from their BlackBerry through a secure server to their paired laptop/desktop and automatically signs them in. The whole process takes about 2 seconds and is dead easy.
We chose to build on BlackBerry 10 first! Building first on BlackBerry 10 was an obvious move to us given onboard NFC support, the strong security of the BlackBerry platform and the security-minded aspect of BlackBerry users. We also liked the fact that data and applications stored on BlackBerry 10 devices are encrypted. The WebWorks platform allowed us to develop using industry standards and pave the path to supporting other platforms in the future.
Based on the success of our BlackBerry 10 build, we decided to add support for BlackBerry 7 NFC-enabled devices as well. Again, this just made sense to us given the wide adoption of the BlackBerry 7 platform in a wide variety of commercial applications; many of which have a strong security requirement: government, healthcare, defense, etc. We have subsequently released on the Android platform as well.
Symple ID is in private beta at present and will be launching a crowdfunding campaign in a few short weeks!
A few beta tester accounts are still available and users can sign-up on the Symple ID website here.
If you're interested in learning more about building for BlackBerry, let us know in the comments below!