Let's get to know another of our top contributors to the BlackBerry Developer Support Forums.  Today, I'd like to introduce you to ekke, who is a regular contributor in the Native Development board. ekke's  name is Ekkehard Gentz and he's posting from Germany. Here is how ekke describes himself.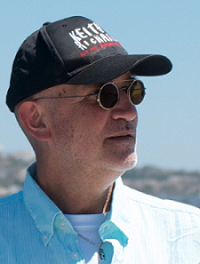 I'm working as an Independent Software Architect in Rosenheim (south of Munich). I started development of software 35 years ago with Assembler, followed by Cobol, Basic, Pascal, 4GL (Omnis) and since 2000 Java – always in the domain of Business Applications for small and medium sized companies.
Five years ago I developed my first mobile application, a BlackBerry OS Java App for Truck Drivers. After so many years developing desktop applications, it was fun to develop for mobile devices, so I decided to focus on this. Then I attended my first BlackBerry Developer Conference in San Francisco, met Brian Zubert for the first time and became a speaker at several BBJam Conferences.
I'm only developing native Cascades APIs and last year I had the pleasure to develop my first app for BlackBerry itself when I wrote the Cascades BBJam Asia Conference App. I'm also writing conference apps for other developer conferences like EclipseCON, JAX, MTC and DC.
For fun, I developed 'ekkes Tea Timer' because I was missing a good–looking, native Tea Timer.
A week ago I submitted my newest Cascades App, 'ekkes Express Charts', to make it easy to insert Charts into BlackBerry EXPRESS presentations.
Most of my applications are Built for BlackBerry–certified, and I recommend those seeking certification simply to follow the UI Guidelines to provide best UX.
Currently I'm working on a Cascades library for Parse.com – a BaaS Service Provider. This library will be Open Source and integrated into SerCar10, the first mobile-only ERP solution for Service companies.
 I'm a BlackBerry Elite Developer and certified native Cascades Builder. I'm blogging at ekkes-corner.org and publish articles on Cascades Development at appbus.org. I really like Cascades for developing native applications for BlackBerry 10. It's the best framework I've developed with and I really enjoy working with BlackBerry Developer Relations Team.
Please feel free to follow me on twitter: @ekkescorner or subscribe my BBM Channel at C0005828B.