Guest post by Shashwat Pradhan, Co-Founder ReFocus Labs.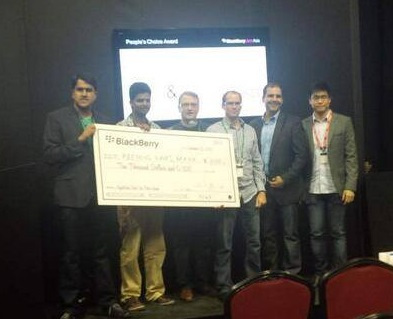 Last year BlackBerry Jam Asia was very eventful for us at ReFocus Labs. Not only did our contextual Augmented Reality app, ARKick, win the BlackBerry Angelhack Startup Challenge, but we also saw the Tilt UI concept and met BlackBerry's Gary Klassen, principal architect and creator of BBM. (I still can't decide which out of the two, was a bigger win for us).
We were really inspired by the Tilt UI in the demo given by Gary. This got us working on a contextual assistant for BlackBerry 10 using this amazing UX concept. Working with an adaptive user interface was really fun; it made the app so much more interactive and non-obtrusive. We wanted to take the interactive experience to a whole new level, so we decided to use our contextual backend, Sidekick Engine, to manage the priority of the context blocks. We are contextually rearranging the positions of the users' weather, places, battery, priority notes, news and calendar. For example, if the weather is particularly harsh on a given day, it is made a priority as the first visible item on Tilt. During lunchtime, we recommend lunch places as a priority item. We utilized the LED as a simple notification to inform the user of change.  We also deeply integrated the app with other default system apps, like the Calendar and Foursquare, to provide a seamless experience. Also we made sure to add small moments of charm like refresh on the facedown of the device.
Tilt follows the lifecycle of a typical contextual app: sense, understand and adapt. Using the power of big data from Foursquare, sensors on the device and improved location sensing techniques, it was fairly easy to build a good contextual experience on BlackBerry 10.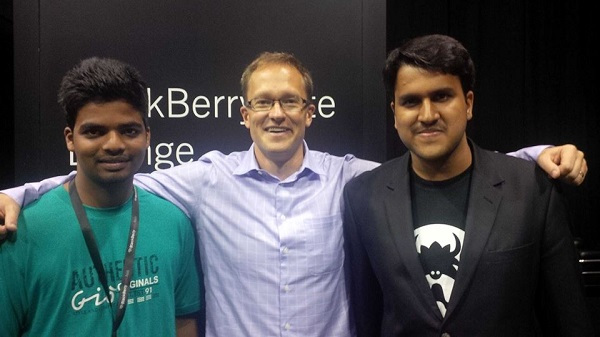 From left to right: Mayur More, our Co-Founder and HTML5 ninja, Gary Klassen and me.
Also I want to give a quick shoutout to BlackBerry's Developer Relations team for helping us build our startup on BlackBerry 10 as a primary platform. The team in India, led by Prakash, was really helpful in giving us mentoring and advice. Also Erik Oros, Sarim Aziz and of course, the most humble Gary Klassen for being so helpful and supporting.