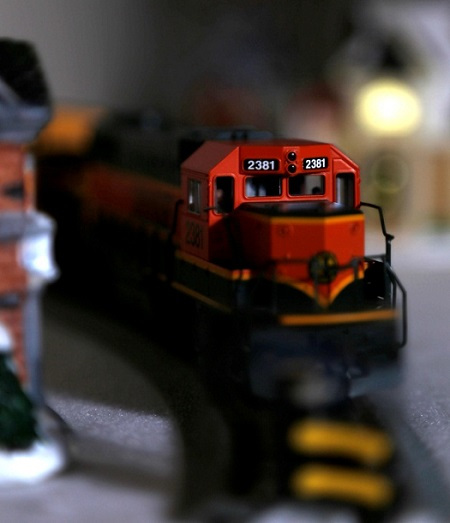 Just in time for the holidays, I now have a BlackBerry powered model railway in my living room!
I recently helped Tim Neil with Bluetooth control for parts of the BatBerry – which left me with the Arduino code and Cascades application I needed for this project.
On Father's Day, my daughter declared the perfect gift for me would be a model train set. She gave me my first HO rolling stock train, and later in the year I bought a starter kit with an engine and some track. My family wanted to set up the train for the holidays, but we don't have enough space for a loop track, so I bought hardware to make the train go up and down the same track.
I used a pine board as a base and covered it with white "snow" felt. I also used some spare LED lights to illuminate some of the houses and bought some micro-switches to use as limit switches (buffers) at either end of the line (yellow heat shrink visible in the photo above).Then I installed a pair of relays to cut and reverse power to the line and plugged them into an Arduino. I also updated the Cascades control application to be four-year-old friendly.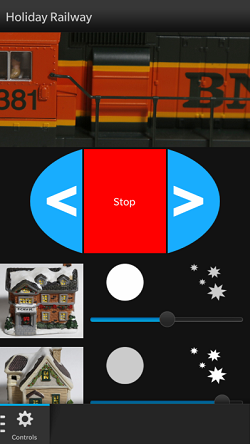 Using the BlackBerry app, my family can now send the train either direction or stop it completely. The train also automatically reverses after a gentle delay when it hits the limit switches.
I also built in controls for the lights in the four houses, with the choice between steady or a pretty flickering setting, plus a brightness setting.
The model functions without being connected to my BlackBerry as well; however, when I do connect, I have dynamic instant control over my train from anywhere in the room. It's a lot of fun for the family and it will definitely be a new annual holiday tradition! Check out the video below for a demo:
Feel free to post your questions in the comments section below, and have a great New Year!