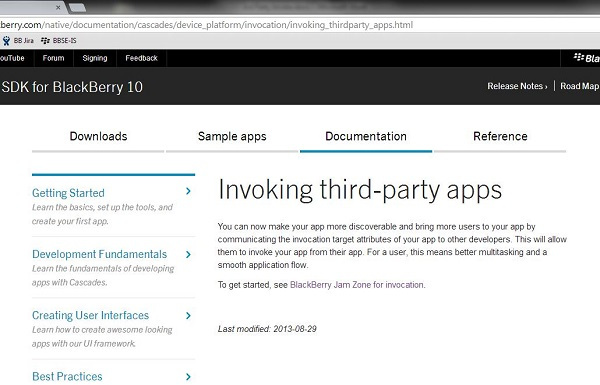 One of the biggest strengths of the Invocation Framework is its ability to bring users to your application from other apps without any friction. If you think about it, without invoking, there is only one entry to your app: the crowded home screen. But with Invoke, users can flow in to your app from other apps seamlessly and intuitively, without ever losing the context of their task at hand. With that in mind, many of us have made our apps invokable by defining invoke targets. And while that's an important first step, we were still missing a way for developers to advertise their targets through a page hosted by BlackBerry. Well, look no further; it is here.

We are now accepting applications to be listed in our documentation page, Invoking third-party apps. If you have an app that has invoke targets and you would like to publish the targets on our website, please visit BlackBerry Jam Zone for invocation. Note that this page is duplicated across Native, HTML5 and AIR.
I am really excited to announce this because I know how important this is to developers. It is highly likely that any app listed on this page will dramatically increase the rate of getting invoked, which means more user time on the app. So act now!