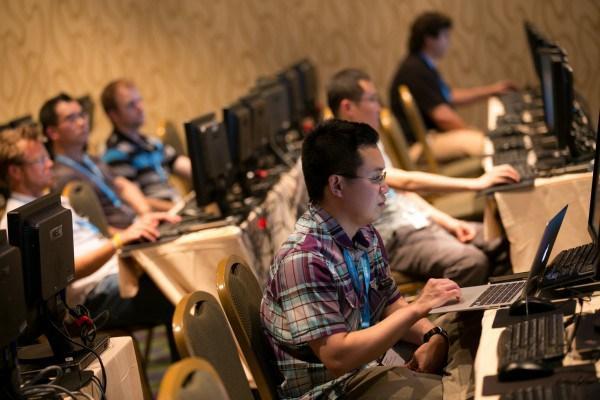 There are less than three weeks left until BlackBerry Jam Asia lands in Hong Kong. The two day event on 26 – 27 September is full of non-stop action, so it's important to have a plan on how to make the most of the more than 50 informative sessions.
Each person who attends BlackBerry Jam is going to have a unique experience based on their interests and the sessions they choose to attend. There are sessions for everyone: developers, designers, and even marketers. The session catalogue can help you find the sessions that are a perfect fit for you.

Let's take a look at some of the most anticipated sessions. These sessions are sure to fill up so make sure to register today.
Learn what's new with 10.2
What: JAM828 – What's New in 10.2: The Evolution of BlackBerry 10 APIs and the Momentics IDE
When: Thursday, 26 Sept. 3:30 PM – 4:30 PM
A lot has changed since the launch of BlackBerry® 10! Join this session to see how the BlackBerry 10 APIs have evolved from the initial release to 10.1 to 10.2. This session will also provide some insight into how the platform and APIs are evolving to facilitate new and exciting app possibilities in mobile computing. If you want to see what's new in 10.2, this is the session for you!
NFC
What: JAM 803 – How the Use of NFC is Evolving: Innovative Ways to Use NFC Beyond Payments
When: Friday, 27 Sept. 4:45 PM – 5:45 PM
In the age of mobile computing, opportunities to leverage NFC are quickly growing. NFC can be used to solve enterprise and consumer problems like deep indoor navigation and much more. Join this session to see how the use of NFC is evolving and how you can leverage NFC to build consumer and enterprise apps that sense, understand and adapt to their surroundings.
Built for BlackBerry
What: Why Build a Built for BlackBerry App?
When: Friday, 27 Sept. 9:30 AM – 10:30 AM
The Built for BlackBerry® program is designed to describe the qualities of a game or application that takes advantage of BlackBerry® 10 in features, function, and philosophy. This session will outline recent changes to the program and show why you should consider aiming for the Built for BlackBerry designation for your apps. We'll look at the criteria of program, examples of great Built for BlackBerry applications and some that just don't quite make the bar. This is a great session for developers who want to learn more about what Built for BlackBerry means and how it can help them get their apps discovered.
Entrepreneur
What: JAM807 – The App Buyer Code: An Insider's Perspective on Apps that Sell
When: Friday, 27 Sept. 2:15 PM – 3:15 PM
This session dives beneath consumer psychology into the psyche of typical app users on their path to discovering and purchasing apps. We will look through the different stages of searching, considering, purchasing and finally using an app. Based on results from a market study conducted for this session, we will answer pertinent questions such as, "Why one app is chosen over another?", "Where is the sweet spot to price an app?", and "How much time do users spend on your app before you lose their attention?"
Marketing
What: JAM806 – Market Insights 101 – Understanding Product-Market Fit
When: Thursday, 26 Sept. 2:15 PM – 3:15 PM
The key to developing a successful app business is understanding Product-Market Fit. Join this session to learn more about the specific needs and desires of the APAC market and how to build a value proposition specifically for your market. Also, explore the elements of a strong app pitch and discover how to get out there and evangelize it! This session is all about creating great apps and building a great app business.
Enterprise
What: JAM811 – Enterprise 201: BlackBerry Enterprise Service 10.1 Overview and Deploying Apps in the Secure Workspace for Android and iOS
When: Thursday, 26 Sept. 4:45 PM – 5:45 PM
For enterprise developers interested in deploying enterprise apps to BlackBerry®, Android™ and iOS® devices, this session will provide a detailed overview of BlackBerry® Enterprise Service 10.1 and how enterprise developers can leverage it in secure deployments.
And don't forget there's even more things going on outside of the sessions at BlackBerry Jam Asia. Swing by the Jam Space to try out the latest BlackBerry 10 smartphones, get your questions answered at Ask The Experts, learn more about Built for BlackBerry and lots of other cool things that are perfect for a developer like you.
Can't wait to see you in Hong Kong!