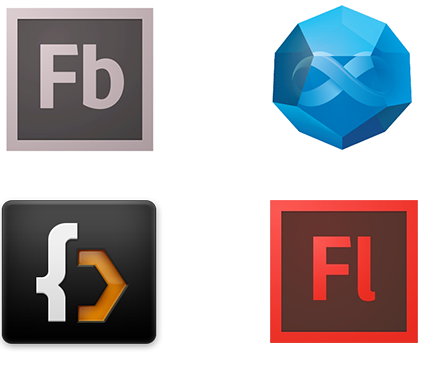 With the gold release of BlackBerry 10.2 just around the corner, which supports AIR 3.5 and Stage3D, now is the time to start testing your AIR applications and submitting updates. If you still haven't published or ported your AIR application over to BlackBerry 10, two new guides have been created in addition to the previous two.

The two IDEs that BlackBerry officially supports for creating AIR applications on BlackBerry 10 are Adobe Flash Builder and FDT. Support for these IDEs comes bundled in the BlackBerry SDK for Adobe AIR.
There are also two other popular options that developers use for creating AIR applications: Flash Professional and FlashDevelop. I have recently written guides that document how to efficiently use these IDEs, which I've linked to below.
Get started publishing your AIR applications:
If you're looking to get a leg up on our Built For BlackBerry program, make sure you read my blog post on the BlackBerry 10 Experience App Framework. The framework simplifies the process of creating AIR applications that follow the UI guidelines for BlackBerry 10.
If you get hung up on any of the steps or have any questions as you move through the process , please do a search on the BlackBerry AIR support forum or post your own questions. The BlackBerry AIR development community is always happy to help you bring your apps to BlackBerry 10!