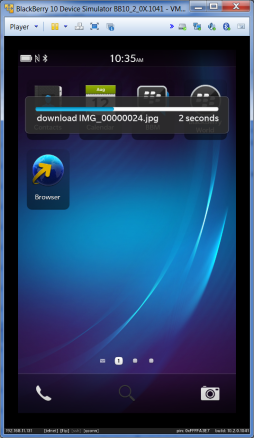 Guest post from Daryl Martin

The latest simulator release for BlackBerry 10 brings a heap of new improvements and features, taking the simulator experience to the next level!
Bluetooth is now officially supported in the BlackBerry 10.2 simulator! You can now pair a BlackBerry 10 Device, keyboard, mouse and other Bluetooth peripherals with the simulator to assist with your development and testing. This will work with any USB compatible Bluetooth dongle and is very simple to setup.
The simulator controller also enjoys a complete redesign and quite a few new features! One of my favorite changes is the ability to see and interact with a 3D view of a BlackBerry when simulating orientation in the controller.
The camera application is now part of the simulator build and is officially supported by the simulator team. Developers can either take pictures of custom images injected into the viewfinder or just use the default scrolling bars. We are working on adding more camera features, such as injecting QR codes via the controller, so keep an eye out for future releases.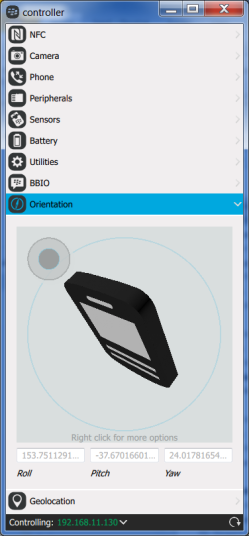 Android developers can now use Jelly Bean in the simulator. Like most things in the simulator, Jelly Bean is Hardware Accelerated so you can enjoy the 60FPS goodness for your applications! This did require us to update our version of Mesa to 9.1.2, so there have been numerous improvements in our OpenGL support along the way.
So, what are you waiting for? Grab the latest simulator download and get started using all these great new features today!