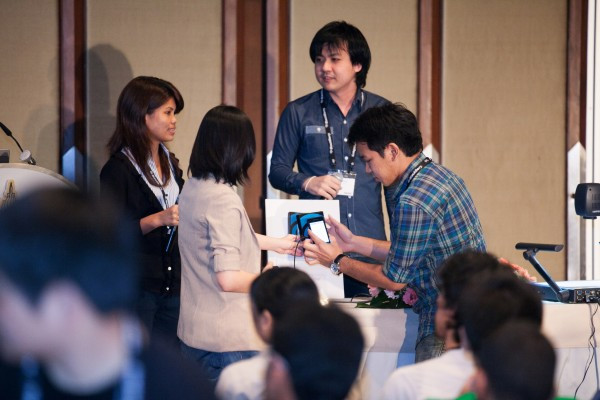 We're excited to announce that registration is now open for BlackBerry Jam Asia, 26-27 September, 2013 in Hong Kong. Register by 30 August and pay only $99 USD with the Early Bird Rate!
With more than 50 breakout sessions, BlackBerry Jam Asia focuses on:
Leveraging the Mobile Computing Opportunity
Developers can learn about the burgeoning area of mobile computing and how they can leverage concepts to build innovative apps. Beyond that, developers can learn how to leverage powerful multi-tasking capabilities and Adaptive UX design to help align their apps with mobile web standards and open source communities.
Building a Business on BlackBerry
From the beginnings of an idea, through the startup pitch and all the way to marketing and app submissions to BlackBerry World™, developers will hear how startups and established organisations alike can partner with BlackBerry to build a business on the BlackBerry 10 platform.
Built for BlackBerry. The Signature BlackBerry 10 experience
Building developers' businesses on BlackBerry is our top priority. The Built for BlackBerry designation indicates to customers the signature, stand-out BlackBerry 10 experience. At the conference, developers can learn more about Built for BlackBerry and check out the range of resources available for designing, developing, and distributing their apps or games.
We know two days of juicy contents just ain't enough, so we are also offering pre-conference sessions on 24-25 September! Only for registered attendees, you have the options of joining the multi-language training sessions, "Developing Apps Using the BlackBerry 10 Native SDK and Cascades™ UI Framework", and/or a game development workshop – "Game Destination at Jam Asia"! Spaces are limited so you'll need to apply during the online registration process.
Last but not least, here's something to show our commitment to you developers! Only in limited numbers, qualified attendees stand a chance to receive a BlackBerry 10 Dev Alpha C device at the event*! The BlackBerry 10 Dev Alpha C is a testing device for developers that can be used to help adjust, debug and test BlackBerry 10 apps for BlackBerry 10 QWERTY smartphones – such as the BlackBerry® Q10 smartphone, as well as the new BlackBerry® Q5 smartphone.
All these and more await you at Jam Asia 2013 in Hong Kong!
Register today to reserve your spot at BlackBerry Jam Asia, and join a community of mobile developers and business leaders for in-depth development content and networking opportunities that can help you build and perfect your BlackBerry 10 apps.
*Qualified developers will be determined by BlackBerry using applicant information from the conference registration system. If you or your company has already received a BlackBerry 10 Dev Alpha device at a previous BlackBerry event or from BlackBerry, you are not eligible for this offer.